Who prepared royal cuisine?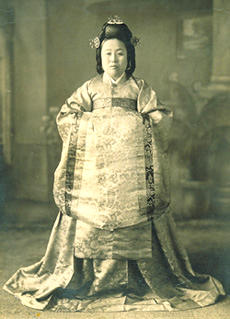 Sanggung Hee-sun Han
In the royal court, there were many court ladies. In Korean, a court lady is called gungnyeo, which is short for gungjung yeogwan (a lady officer of the royal court). The hierarchy of court ladies was multi-leveled, ranging from a sanggung in rank 5 to a four- or five-year-old child naein. Court ladies were largely divided into sanggung and naein (also called nain). When a regular naein served for more than 15 years, she would be awarded with an ornamental hairpin for a sanggung. Therefore, a newly appointed sanggung usually ranged in 35-45 years old. We often associate sanggung with maturity and authority. This may be attributable to their many years of experience in the royal court. A court lady at the rank of sanggung was treated well enough to live in her own house with servants. Titles for court ladies varied greatly depending on their age, rank and position: girl naein, child naein, trainee naein, saenggaksi, hanganim sanggung, jimil naein, supervisor sanggung, chief sanggung, master hanganim, majesty sanggung. The duties and responsibilities assigned to court ladies were also hierarchical. Jimil naein, who sat at the bedside of the royal family and accompanied them at all times like a personal secretary, was considered most senior. Court ladies in charge of sewing and embroidery and those responsible for cooking were next in rank.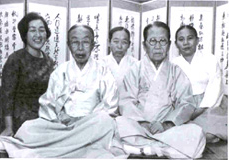 Prof. Hae-seong Hwang and the last sanggung
Just like the other court ladies, a cookery sanggung was usually over 40 years old when she was promoted to the rank of sanggung. By then, she would be a highly skilled chef with over thirty years of cooking experience. Naein assigned to kitchen were classified as naein for living quarters. At normal times, they would prepare royal cuisine for a king and a queen every morning and every evening. In the late Joseon Dynasty, naein posted in kitchens dressed in a jade-colored jacket and a navy blue skirt, just like the other naein. When they were at work, they would roll up their sleeves, wear another jacket - a violet, unlined jacket - and put on a white apron.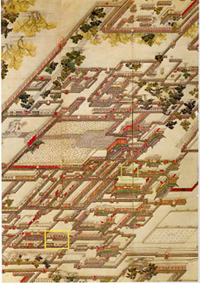 Sojubang in a bird's eye view picture of a palace
At the palaces for a king and for a queen, sura (a meal prepared for king) was served. A place where sura was prepared was called suragan or sojubang, which was located at a place some distance from their palaces. In the case of Changdeokgung Palace, suragan is located quite far away from daejojeon, the living quarters. The table-setting for surasang (a table set with sura) was prepared and cleaned up at toeseongan, a food arrangement room. At sanggwabang (a dessert kitchen), a variety of desserts, such as fresh fruit, cooked fruit, baked goods, tea, fruit punch and porridge, were prepared.
A scene from Daejanggeum, a television drama about court ladies
In the royal court in the late Joseon Dynasty, sura at ordinary times was prepared by sanggung assigned to the kitchen. However, for royal banquets, male chefs called daeryeong suksu prepared the meals at sukseolso, a kitchen built in a temporary house. Since banquet foods involved butchering an ox and boiling it in an enormous pot, it was too much for women. Daeryeong suksu, a special chef for banquets, literally means "skilled hands waiting to be called on by the royal court." In order to become a suksu, one had to shadow and learn from a skilled suksu for tens of years. Only then could he earn the title of suksu. One can easily guess how skillful and proficient they would be. When the country collapsed in the late Great Han Empire, suksu for the royal court began to work at commercial Korean restaurants. Naturally, royal banquet foods became familiar to the general public.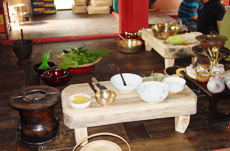 There are some court ladies who accompanied Queen Yunbi, who had come to the palace in 1906 as the wife of King Sunjong, and shared her joys and sorrows for about sixty years until she died. Sanggung who served Queen Yunbi until her last moments at Nakseonjae include Myeong-gil Kim, Chang-bok Park and Ok-ryeon Seong. Hee-sun Han (1889-1971), the last cookery sanggung in the Joseon Dynasty, joined the royal court as a nain for a kitchen at Deoksugung Palace when she was 13 years old (the 39th year of King Gojong's reign). As a cookery sanggung in the royal court, she worked at Gyeongbokgung Palace and Changdeokgung Palace and prepared foods for King Gojong (r. 1863-1907) and King Sunjong (r. 1907-1910).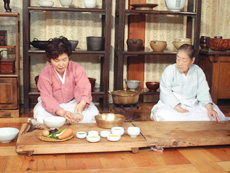 Prof. Hae-seong Hwang and Bok-ryeo Han prepare food
Hae-seong Hwang (b. 1920) became an associate professor at Sookmyung Women's College when she was 22 years old and taught cooking to students in the Joseon Dynasty. Therefore, she approached Hee-sun Han and was able to get closer to royal court people, who kept their distance from outside people. While learning about foods of the royal court, she quantified those foods and documented recipes in order to preserve the dishes of the royal court that were fading away. At the same time, she began writing a book to pass on the academic background of royal court foods and their actual recipes.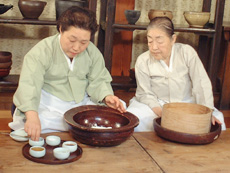 Fortunately, just at that time, in an effort to preserve disappearing traditional heritage, the Korean government was designating it as an intangible cultural asset and those skilled in this function were appointed as skill-holders. After great endeavor, in 1971 Hae-seong Hwang finally had the royal cuisine of the Joseon Dynasty designated as intangible cultural asset No. 38 and Hee-sun Han, the only surviving person with firsthand knowledge of the royal cuisine at that time, recognized as a first-generation skill-holder. In addition, in the same year, she founded the Institute of Korean Royal Cuisine and produced a number of graduates, including Bok-ryeo Han (currently Director of the Institute of Korean Royal Cuisine). The Institute of Korean Royal Cuisine is promoting royal cuisine and traditional cooking to the public through education and exhibits.
We are able to learn about and enjoy royal cuisine, the greatest food in Korea, and be entertained by a TV drama about royal cuisine thanks to the concerted efforts of people like Sanggung Hee-sun Han and Prof. Hae-seong Hwang.